Gourmet restaurant & terrace in the heart of the Jura: La Table de Marc Tupin
From the gate, the Table of Marc Tupin unveils contemporary and full of charm. The reception opens on a large bright, contemporary room. A pearl and a steel shades of gray harmonizes perfectly with the wall "Wine bed" at the back of the room and enhance the crisp white tables. The decor is elegant and refined, perfect setting for a gourmet and unique experience.
-
Expertise
Top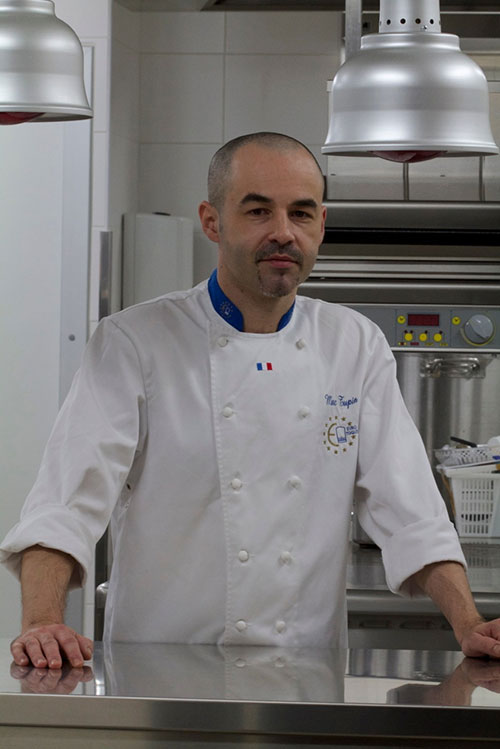 Creativity and expertise of Chef Marc Tupin
Yellow wine, Comté, zander, Morteau sausages, foie gras, chocolates, pastries .... Marc Tupin, our chef, concocts a Franche-Comté quality cuisine, generous and refined, combining local products and great classics of French gastronomy.
Our title of Maître Restaurateur attests to the quality of fresh local products with careful selection of suppliers and producers. Chef Marc Tupin has at heart to receive its raw materials and combine them in his kitchen with his team.
Quality, flavor and discoveries are invited to his table to the delight of the guests.
And to marry your dishes a delicious selection winemaking, an imposing glass cellar is emerging in the hall. Enjoy Jura wines, Chateau-Chalon, Vin de Paille, Crémant, Bordeaux, Cotes du Rhone, Burgundy and many other names ... yet, totaling some 300 references.
The gourmet restaurant seats up to 65 people on two rooms: a little room for more privacy and a large dinner room.
Maria, Chef's wife, may also propose the pleasant green terrace. In the shadow of majestic plane trees, enjoy the warm summer and a quiet setting conducive to good tasting.
The gourmet restaurant and terrace are accessible to people with reduced mobility.
Perfect for parties, consider our foie gras to take away! Want to please your loved ones? Our gift vouchers are also available. Do not hesitate to contact us for more information.


Chef Marc Tupin history
Top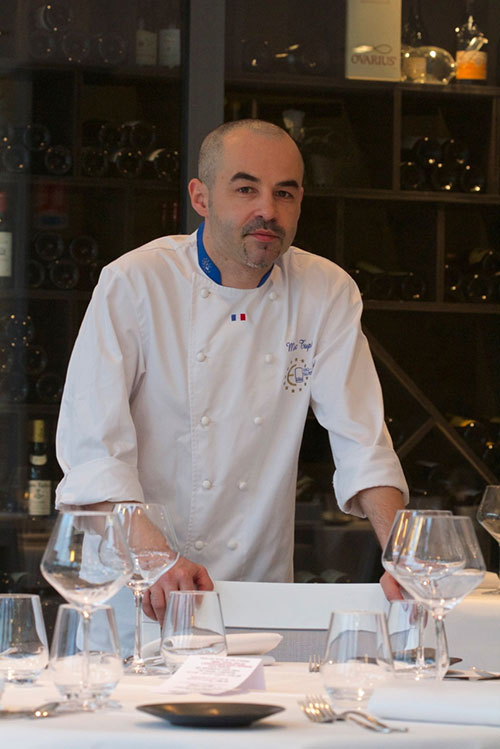 Chef Marc Tupin history
Native of Besançon, Marc was soon fascinated by cooking and he likes to combine tastes while playing with flavors. After graduating in 1993 with Catering Professionnal baccalaureate at Lycée Hôtelier in Poligny, he devoted himself to his second passion: baking. His complementary mention in baking obtained, he started working at Verny, pastry in Besançon, then in Beaune, at Verger. From 1994 to 1997, he moved to Joucas at Hostellerie Le Phoebus **** , then to Noves and finally to Vialas at Patrick Pagès, Hostellerie Chantoiseau.
Then he was welcomed at Georges Wenger, Relais & Chateau in Noirmont, Switzerland as Head of pastry and Chef de partie during four years.
In 2002, he assisted Jacques Barnachon at L'Etang du Moulin in Bonnétage. It's only two years later that he takes off and discovers Hostellerie Saint-Germain with his wife Maria, catering professional also. Built on his past experience, he's soon rewarded Gault et Millau Young Talent, Maître Restaurateur and he is a member of Eurotoques.
The hostelry has charmed the gourmets who enjoy the talents of Chef and welcoming quality of his wife.


Restaurant Menus
Top
Restaurant Menus
Discover our restaurant menus :
Useful information
Service hours :
Lunch 12h15-13h45
Dinner 19h15-20h45
Nevertheless, the end of service time may vary according attendance.